Sean Folkson
Founder, CEO
Sean Folkson is founder and Chief Executive Officer of Nightfood. Folkson founded Nightfood when he couldn't find a solution to his nighttime snacking problem. No matter how carefully he ate during daylight, the nighttime combination of powerful hard-wire cravings for excess survival calories and decreased willpower led to unhealthy nighttime snacking.
Recognizing the growing body of research linking our nutritional intake with sleep quality, Folkson launched Nightfood, the first snack specifically formulated to give consumers a better, healthier, more sleep-friendly snack for that time between dinner and bed. Sean is a serial entrepreneur and problem-solver, having previously founded Specialty Equipment Direct, an online distributor of floor removal equipment, and, before that, AffiliatePros.com, an internet marketing company specializing in affiliate marketing.
Sean received a B.A. in Business Administration with a concentration in marketing from S.U.N.Y Albany in 1991.
Nisa Amoils is Managing Partner at A100x Ventures investing in Blockchain/AI companies with impact, and has been an early stage investor for the past decade at different funds. She was named one of Business Insider's Women VC's to watch and top 100 Women in Fintech, and top 50 global Blockchain thinkers.
She is a securities lawyer and on the boards of several institutions including Girls Who Invest, and Wharton Entrepreneurship. She is a frequent media guest, including on Bloomberg, CNBC, Cheddar and Fox. Prior to investing, she was an entrepreneur and spent many years in business development and strategy at companies like Time Warner, NBC Universal and Anderson Kill.
She holds a business degree from the University of Michigan and a law degree from the University of Pennsylvania She is FINRA-licensed.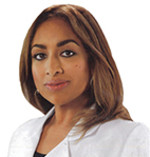 Thanuja Hamilton, M.D.
Director
Thanuja Hamilton, M.D., is a Double Board-Certified Sleep Medicine Specialist. She completed her Fellowship in Sleep Medicine as well as Internal Medicine at Drexel University College of Medicine at Hahnemann University Hospital in Philadelphia, PA where she was Chief Fellow of her program.
Dr. Hamilton has been a prominent advocate of healthy sleep. She frequently presents at medical conferences and is actively involved in community health programs. She has been named SJ (South Jersey) Magazine's Top Doc and was the featured physician on the cover of Philadelphia Magazine's Top Docs issue. She is the Corporate Medical Director of Persante Health Care-a national provider of sleep and balance center management services to hospitals, physician practices and patients. She serves as Medical Director of Jefferson University Health Systems Sleep Lab and Virtua Health Sleep Labs and is on the board of the New Jersey Sleep Society. She is a member of the American Academy of Sleep Medicine, American College of Chest Physicians and the American Medical Association.
She has written for and contributed to numerous outlets such as Yahoo Health, Women's World, Good Housekeeping and Health.com, including a column in the Philly Voice. She has appeared in a number of nationally syndicated and local television programs as an expert in sleep.
Mr. Morse is the co-founder and original President of Living Essentials LLC (5-Hour Energy). We believe our shareholders will greatly benefit from his experience having led 5-Hour Energy and its parent, Living Essentials, through product conceptualization, development, launch, and rapid growth, as well as his successes since.
Mr. Morse pioneered and created the multi-billion dollar energy shot category with 5-Hour Energy. He is viewed as a tremendous resource as we continue to grow the night snack category. Tom provides a wealth of knowledge and insight into branding, marketing, and distribution. A nighttime snacker himself, he's very excited about the consumer problem we're solving and the solutions we're bringing to market.