The Market
What you eat before bed matters.
Over 87% of consumers 18-54 snack at night on a regular basis. The most popular choices are exactly what you'd expect: Cookies, chips, and ice cream.
The result? Americans combine to spend over one billion dollars weekly on snacks consumed between dinner and bed.
Studies show that 54% of consumers feel guilty about their nighttime snacking and that 80% of consumers are dissatisfied with their sleep quality.
Nightfood snacks help consumers satisfy their nighttime cravings in a better, healthier, more sleep-friendly way.
The Biology
Why do so many people reach for such calorie-dense choices when it gets later in the day?
Research indicates the following three factors converge as we approach bedtime, creating a "perfect storm" that can lead to unhealthy night snacking:
Human appetite peaks at night
At night, cravings for sweets, fats, and salty foods are most powerful
Willpower weakens throughout the day, and is lowest at night
So, at night, your willpower is exhausted, you get powerful cravings for the least healthy stuff, and it takes more of it to satisfy you.
It's no surprise that so many diet and nutrition experts consider unhealthy nighttime snacking the biggest problem for people trying to lose weight or maintain a healthy weight.
This problem will simply never go away on its own.
That's why we created Nightfood.
Nightfood was formulated by sleep and nutrition experts to satisfy nighttime cravings in a better, healthier, more sleep-friendly way.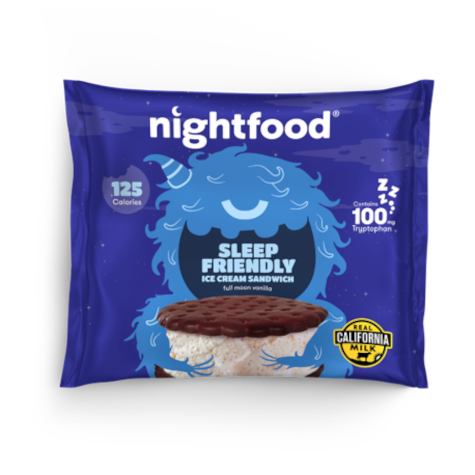 Not Yet Available
Not Yet Available
3 Reasons to Invest in Nightfood
Reason 1: We are Pioneering the Category
In a new category, the pioneer has the inside track to be Category King. This is about much more than simply being the "first-mover." The pioneer is often viewed as the authority on the problem being solved and the default choice among consumers. As the category grows, market share, sales, and valuation tend to accrue to the category king.
Reason 2: Offering Multiple Snack Formats
The Nightfood brand will include sleep-friendly versions of the most popular nighttime snack formats. In addition to ice cream pints, Nightfood sleep-friendly cookies were launched in September 2022. chips, ice cream sandwiches, candy, and nutrition bars are on the product roadmap for 2023 and beyond.
Nightfood is not just an ice cream company. Nightfood is THE nighttime snack company.
Reason 3: The Hotel Advantage
Hotels have an obligation to help guests sleep better. When the most respected hotel brands in the world show they trust Nightfood for their guests' nighttime cravings, consumers will know they can trust Nightfood too.
We believe national hotel distribution can rapidly grow the category and the brand, while serving as a defensible competitive advantage against potential competitors.
Nightfood ice cream pints entered national hotel distribution in May, 2022.
Since that time, Nightfood has secured distribution in select properties across many of the largest hotel brands in the world, including Marriott, Holiday Inn, Holiday Inn Express, Hyatt, Sonesta, Candlewood Suites, Crowne Plaza, Best Western, Ramada, Clarion, La Quinta, and many more.
In many of our hotels, we're outselling decades-old legacy brands such as Haagen Dazs and Ben & Jerry's.
After just a few months in distribution, our sales performance and unique guest benefits have led one of the largest hotel companies in the world to make the decision to introduce Nightfood into additional national hotel chains.